Litter Born 4/29/21
2 white and lemon females, 2 white and liver females and 1 white and liver male.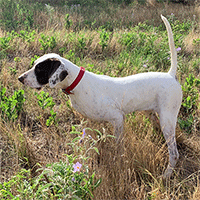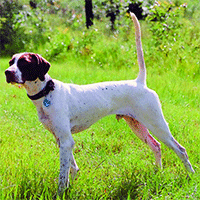 We are excited to have this opportunity to artificial inseminate Firefly to the great Champion Skyfall. Skyfall is the sire of our Phantom's Huckleberry dog and we love him! He's a tremendous wild bird dog with incredible style and conformation! Skyfall is a littermate to Ch. Ransom, the sire of 2 X National Champion Lester's Sunnyhill Jo. These champions, along with many others were produced by mating National Champion Whippoorwill Wild Agin to Sparkles (daughter of HOF Ch. Rock Acre Blackhawk and Southern Sunflower). Of course, Blackhawk is a son of our great female Santo and a great grandson of our Okie's Cheap Trix.
Firefly goes back to our Champion Whippoorwill Razor, son of National Ch. Dunn's Fearless Bud and W W Tiny, through our Open field trial winner, Phantom's Shooter. Her dam is Phantom's Stars N Stripes, and daughter of Ch. Rock Star Andy (Ch. Elhew Sinbad and a daughter of Nat. Ch. Miller's Online) and Phantom's Snapshot (Ch. Whippoorwill War Dance x WW Camo). War Dance was a son of National Ch. Whippoorwill Wild Agin.